---
Champaign Urbana Realtor
In 1999 I had some serious problems with a Gateway laptop (Solo 2500). This is my story.
August 29, 1999: I turned on my laptop (A Gateway Solo 2500 that I had purchased in December of 1998) and the screen was messed up. I did nothing to cause this. You can see pictures below that show the state of the laptop. You can click on any image to take you to a larger version.
As you can see, there were two "gashes" on the upper left portion of the screen (and a couple of one pixel lines running vertically). However, the laptop was still usable. But, rather than leave it like this, I figured that I would contact Gateway and have them fix it, since I hadn't done anything to mess it up and it was still under warrantee.
~ August 30, 1999: I contacted Gateway. I talked with "Mike", a customer service rep. He gave me a service number and the location to mail the package to. While on the phone with Mike, I mentioned that this sounded like it was a defective screen. Back in the spring (of 1999), I had noticed a single pixel that was glowing red. It stayed that way for a few days, and then it disappeared. In subsequent months it came back off and on. Mike said that it was common for laptops to do this, and unless the pixel was in the center of the screen, Gateway didn't normally replace them under warrantee. The thing that instantly caught my attention, though, was that the errant pixel was exactly along a line that you could imagine between the two gashes! I told all of this to Mike on the phone. Mike said that they would know something within 3-5 business days of receiving the laptop.
September 1, 1999: I packaged the laptop in a cardboard box, with bubble wrap completely surrounding the laptop, along with many pieces of balled-up newspaper and I sent the laptop to the Gateway Service Department via Fedex (tracking number: 813529177101). Here is the letter that I enclosed with the laptop.
September 15, 1999:After waiting until the 15th (more than the 3-5 business days that was promised on the phone) I received a phone call from Gateway. The lady on the phone informed me (in a rather hateful manner, might I add) that I had either dropped the laptop or had hit the screen very hard (which, of course, I had not done) and that Gateway would not be replacing the screen under warrantee. Because she was as unfriendly as she was, it was obvious that she had her mind made up, and I figured to myself that the laptop was still usable. I didn't see any reason to pay the $999 + $25 shipping + tax (about 80 bucks probably) when I had a screen that I could still use quite well. I told her to send the laptop back without replacing the screen.
September 18, 1999:I received the laptop back from Gateway. I was needing to use it for some work, so I turned it on, and this is what I was confronted with:
As you can see, the screen was virtually destroyed. Upon looking at the screen closely, I could see two large fingerprint marks on each side of the crack. So, it was obvious that Gateway technicians were pushing quite hard on the screen. (I know that they weren't my fingerprints because I am extremely religious about NO ONE touching my laptop screen. I am likely to break fingers if people try. And, if you don't believe me, I'm sure that I could have "lifted" the fingerprints and they would have matched the fingerprints of some Gateway technician in Irving, TX.)
As luck would have it, on September 19, I had major automobile problems, and this kept me occupied until the last week of September. At that time I started the process of doing something about the issue. I felt that I had been treated quite unfairly. One of three things had to have happened:

The screen was damaged on the way to Gateway
The screen was damaged while at Gateway
The screen was damaged on the way back from Gateway

It is really unlikely that the screen was damaged in transit. The fact that the fingerprints are so evident on the screen leads me to believe that the screen was damaged while at Gateway. This disturbed me greatly, because I had managed to "sell" a number of people on Gateway computers in the past. I am quite sure that I will not be doing this in the future.

It was not my understanding that when I sent it in for servicing that Gateway would destroy the components that were not quite perfect. Think about what would happen if auto mechanics worked that way. You send your car in and the mechanic sees that the tires aren't in perfect condition, so they pull out a knife and cut a hole in them. What kind of deal is that?

September 30, 1999:I sent an email to Gateway (via their webpage) concerning this. I got a message back saying that my client ID was required (which I had no idea what it was). I went home, dug and dug, and found the original order form that I got from them with the computer.

October 1, 1999:I sent Gateway a request to look into it. I first got this computer-generated message and then I received this message.

So, I then sent a message to tech support with the same information.

And I received this computer-generated message.

A couple of hours later, I received this extremely welcome message in my email inbox! It was nice to see that Gateway could do the right thing!

I responded with this email.

October 10, 1999:9 days later, I still hadn't received the shipping kit. So, I mailed this email.

October 11, 1999:And, they responded with this useless letter. Since I didn't have my customer information with me at the office, I had to wait until the next day to send in the letter to the NON customer support people (to use their web page support system you have to have your customer ID number or it won't accept the message). It really annoys me that an organization can't just say, 'Gee. This message needs to go to the people next door. Why don't I send it to them?' rather than greatly increasing the delay by sending a refusal back to the customer first and making them totally resubmit the claim via another venue. I can understand that this probably reduces the chance for error, etc. but it seems like some cases are clear cut enough that it could be done easily.

As luck would have it, their response actually ended up being a good thing. I got home that evening and discovered the shipping kit waiting for me.

The packing slip that came with the kit is given below: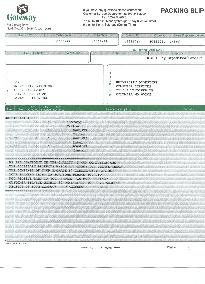 Note that the ship date was October 8. Since that was just the Friday before, I suppose that explains why I didn't get it until that Monday.
The shipping kit also included a FedEx form which is given below: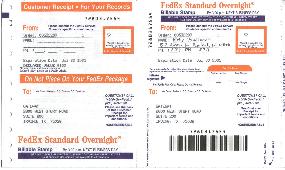 October 12, 1999:The shipping kit itself consisted of a box with foam inserts. I surrounded the laptop with the foam inserts and mailed it off at the local FedEx drop site. The Fedex tracking record is given here.
October 18, 1999, about 11:15am: I was contacted by Emma from Gateway who gave me an estimate on how much it would cost to fix it ($999 + $25 + tax; same as before) and I told her that it was my understanding that it would be covered (per the previous email). She said that the computer was under warrantee, but that cracks were not covered. I explained what had happened and she said that she was not aware of the history, but that she would look into it. I gave her the URL for this page and she said that she would get back with me. (Why she didn't have the URL from the previous messages sent to the Gateway is beyond me)
October 21, 1999, about 5:05pm: I was contacted again by Emma and she said that she had not been able to view the webpage so I sent her an email that contained the address. I mailed this message to her. After she didn't get it for a little while I also sent it to the same address with Upper Case letters for the 'E' and the 'V'. She said that she would look at the web page and get back with me the next day. About 5:23pm the phone call ended, basically at an empass. She felt that I should have to pay and I knew that I shouldn't. One minute later, I got this message from her via email. I responded with this message. (Interesting Note: Take a look below at the list of machines that have accessed this web page to see how many times gateway.com checked this page out immediately after that)
November 3, 1999:When I got home from work (13 days later) I had a package waiting for me. It was my laptop. Not fixed. Gateway did not even bother contacting me again as they had said that they would. They simply kept my laptop for ten days after last talking with me and then sent it back unrepaired. The 'service report' paper that was in the box with the laptop clearly says: Ship Condition: Unrepaired.
November 5, 1999: I received this email from a supportive person. Of course, I replied and said to "Go for it!".
Both times that I had sent off the laptop I first took out the battery and the hard drive. Mike (the original tech support person that I talked to) told me to do this because it would reduce the shipping weight, and tech support didn't need them anyway. For those without Gateway laptops, the battery comes out by pushing a little switch and pulling it out. The hard drive, on the other hand, has a tiny little screw that you have to unscrew and then you can pull the hard drive out. Each time when I sent the laptop off, I took the screw out, removed the hard drive and then put the screw back in to the laptop case. The screwhole in the laptop seemed to be a quite reasonable place to "store" it. But, when I tried to put the hardrive back into my laptop I discovered that the screw was not there. So, Gateway apparently put in some hard drive of their own, and neglected to return the screw to my laptop. This might not seem like a terribly big deal, but:
I have no clue what size screw this was. It was a tiny little thing. I have no clue what size to replace it with. And, I shouldn't have to. I didn't loose the screw. The screw screws in quite a ways so the odds are very very very slim that it came out on its own. Just in case, though, I thoroughly checked the box that the laptop came back to me in to make sure that it was not there.
This is one more example of Gateway carelessness. I guess that when I sent the laptop off the second time that I was being too trusting to expect them to return the laptop to me in the state that it was in when sent off. (I should have know from my previous experiences)

November 12, 1999:I filed a complaint with the Better Business Bureau (www.bbb.org). Here is a copy of the information that I sent to them. They say to wait 3 to 4 weeks to hear back from them.

November 15, 1999:I received this message from Gateway, and I responded with this message.

November 22 at 12:57pm: I called Mike Osterholt at the number he gave me and left a message on his voice mail to have him call me back.

I received this message from someone who had looked at my web page and I responded with this.

November 23 at 10:48am: I received a call from Mike Osterholt and he said that he had reviewed the material that he had and what was on the website and that it looked like the only thing that they could do was to replace the chassis. This would include a new LCD screen. He said that it would take a couple of days to get the order set up and that he would contact me after that to let me know that the shipping kit was on its way to my address. When I get the shipping kit I will remove the harddrive and battery and mail the computer back to them. They will replace the chassis and then mail it back to me. And, it will be covered under warrantee. This is obviously excellent news. It is sad that I had to go to such extreme lengths to get the right thing done, but I am currently very happy and optimistic that things are finally going to get resolved.

November 29, 1999:I had this letter in my US mail box from the BBB. I responded by sending them this email on the morning of the 30th.

December 3, 1999, about 10:30am:I received a phone call from a trucking company (Manna Cobra (I talked with Jill at 800-714-6587 Ref # GW124167) and then DHL Delivery (I talked with John Fisher)) that said they were trying to find my residence and that they couldn't find it. Apparently the shipping kit had been sent out on Monday (1999/11/29) and they were supposed to deliver it on Tuesday (1999/11/30), but someone told them that I had moved (I hadn't, of course). So, I got them straightened out on that and they decided to just bring it by my work location. At noon on December 3 I received a package at work. Come to find out, they actually sent me a different laptop. It came minus the hard drive, floppy drive, and battery. I needed to take the components out of my old one, put them in the new one, and send the old one back to Gateway.

When I got my new laptop (back in December 1998) it had a clear plastic sheet over the screen (to protect the screen). When I got this one the clear plastic sheet was laying on the outside of the laptop and the LCD screen actually had some fingerprints on it. This concerned me.

I noted that on the packing slip it listed:
MAC SL25 13.3T 233MMX PS R0
This concerned me because I have a Pentium 2-233, not a 233 with MMX. (The Pentium 2, depending on which performance benchmark you look at, is anywhere from about 10-40% faster than the straight Pentium (information from Intel's website)) I borrowed a laptop battery from a co-worker and turned on the machine and discovered that they had sent me a Pentium instead of a Pentium 2! So, I called Mike Osterholt and left a message on his voice mail to get back to me. What is even more interesting is that it has a 'Intel Inside - Pentium 2' sticker on the laptop (even though it doesn't have a P2 inside). I really get the feeling that they have taken a used chassis (because of the plastic sheet, the fingerprints, and the sticker) that someone else returned (for who-knows what reason) and just sent it to me.

December 3, 1999 at 2:52pm:I received a call from Mike apologizing for the mixup and he said that he would send out another computer with a Pentium 2 processor in it. He asked if the screen was alright otherwise and I responded that, other than the fingerprint smudges that it was OK. So, I am going to keep the Pentium and use it until I actually get the Pentium 2. At that point I am going to mail BOTH the Pentium and the original broken Pentium 2 back to Gateway.

December 7, 1999:I received this email. It's amazing how the web works.

December 9, 1999:I had a chance to work with the Pentium machine that they sent me. I took the battery, hard drive, and floppy drive out of the Pentium2 and put them into the Pentium (they didn't send me a screw for the hard drive, so it is sitting in the computer without being firmly secured) and booted it up. It booted up, found a number of new devices (related to Pentiums and the PCI Card Bus) and asked to reboot. I rebooted it, and it found the exact same devices again (at least the Card Bus; I don't actually remember it "finding" the Pentium again). It asked to reboot. So, I rebooted again.

Then I decided to update some items from the web that I hadn't been able to do, so I went to Internet Explorer and started doing that. I remembered that I had almost left a CD in my Pentium2 before boxing it up, so I checked the CD on the Pentium. It had a Gateway QA Test CD Version 2.0 dated 12-29-98 in it! I went ahead and closed the CD cover again, and looked into 'My Computer' to see what was on the CD. "Wow.. 619 megs of stuff.. Wonder what it is..." And, about that point, the computer locked up. Ctrl-Alt-Del did nothing. So, I had to power cycle it.

I turned my head for a bit, and when I looked back, it was in Windows, asking to reboot. So, I went ahead and told it to reboot. While it was getting started again, I took the CD out of the drive. It booted up OK, except that the CD icon on the LCD panel was staying on (it normally only comes on when actually accessing the CD) I thought maybe it was confused. So, I opened the CD drive (remember there was no CD in the drive at the time) and closed it again. At which point I heard about a second of "static" come out of the speakers. It sounded exactly like a radio that isn't tuned to a station. This was fully repeatable. Every time that I opened and closed the CD drive with no CD in, I got static.

So, I put the CD back in the drive... And Windows didn't even recognize that the drive existed (when I went to 'My Computer'. So, I tried to reboot it. It completely acted the same. So, I put the CD back in and rebooted. It hung right after the bios check and before accessing the hard drive. The CD icon was on. I rebooted, it came up (no CD icon), and no CD drive listed under 'My Computer'.

I think that this adequately confirms that I was sent a "lemon" as a replacement for my original computer. This prompted me to send this email to Mike at Gateway.

December 9 at about 2:10pm:I received a call from Manna Freight Company (Michelle; 1-800-714-6587 Ref: GW125183) confirming my address. I told her of the difficulties I had last time with getting the package delivered, and she gave me the phone number for DHL (1-800-225-5345 Tracking: 7901407065) and told me to contact them either the evening of the 9th or early on the 10th. Later in the day (about 5:30pm) I contacted DHL and talked with Jenny and had her redirect the package to my work address.

December 10 at about 10:45am:I picked up my package. Upon opening it, I discovered that they did send me a Pentium 2 this time. The machine looked pretty good. (The plastic screen was on the outside of the computer, and the LCD screen did have a few fingerprint smudges on it; not as bad as the last one, though) It booted up, and didn't appear to have any trouble accessing the CDROM drive. However, my original computer had a "pointing stick" (the more common name for this is an "eraser tip") as a mouse (which I had to pay extra for). (Look at the Gateway QA CD picture. You can see the blue tip of the "eraser" in that picture) The computer that they sent me has a touch pad. So, the machine works OK, it just doesn't have the same specifications as the machine I had before.

On December 10 I had called the shipping company to arrange pickup of the two other laptops that I had, and I sent them to be shipped on the morning of December 13. The tracking numbers for the packages: 7825855914 (for my original laptop. Manna Freight Tracking Number: GW124168); 7500790673 (for the Pentium that they sent me. Manna Freight Tracking Number: GW125184)

December 13 at 8:55am:I called Mike Osterholt and left a message on his voice mail explaining that the computer that I had received had a touchpad instead of a pointing stick.

December 15 at about 10:58am: Mike Osterholt called me back and apologized for the mistake. He said that the only thing that they could do was to ship me out a new chassis. He further said that he would have shipping mail the laptop to him so that he could check it first to make sure that it was what was ordered. I told him that I would try out the touchpad for a little while and see if we could get by without having to go through the hassle of shipping a new unit. He said that this was up to me, and that if I wanted to replace it with a pointing stick to just give him a call.

December 16 at about 10:38am:I received a call from Myrna at the Better Business Bureau asking if things had been taken care of. I told her what had happened and that I was currently "living with" my touchpad laptop. I also told her that I was considering filing an informational only complaint that the BBB could keep on record for what they had done.

December 17 at about 10:02am:I sent this email to Scott Adams, the creator of the Dilbert comic strip. I never did hear anything back.

That is where things stand right now. Many, many people have visited this page, and I still get multiple visits per day. Take the words contained in this page to heart, and good luck!

Still here? Great. Take a look at my photography site http://pics.omnux.com/.